WHAT IS DIABETES?
Diabetes is a condition in which the body is unable to handle the glucose produced from the foods you eat properly, allowing an excessive amount to build up in the blood stream. In order to move glucose from your bloodstream into your cells, where it acts as fuel, insulin is required.
In type 1 diabetes, the body is unable to produce insulin.
In type 2 diabetes, you not produce enough insulin and/or are not able to use it properly. (Type 2 diabetes accounts for over 90% of cases and weight is a major factor.)
An estimated 29 million Americans have diabetes, 86 million more are estimated to have pre-diabetes (or slightly elevated blood sugar).
Did You Know? Eight out of ten cases of type 2 diabetes can be prevented or delayed with weight loss, physical activity, and a healthy diet.
Eat what you love with diabetes.
My stepdaughter has diabetes so I know how challenging living with diabetes can be, especially when it comes to food!
For Colleen, like for many others, the first concern after her diagnosis was whether or not she would still be able to eat her favorite foods. Here are the general guidelines she was given:
First, strive to maintain a healthy weight. Studies show that losing as little as 5% of your body weight can make a big difference in controlling your blood sugar.
Second, because carbohydrates have the largest impact on blood sugar, moderate the amount of carbohydrates you eat.
And last, limit saturated fat and sodium to protect your heart.
If this seems like a lot to think about (or do), rest assured, I'm here to help. All of the recipes in my Eat What You Love cookbooks have been designed with diabetes AND deliciousness in mind. Unwanted calories have been whisked away, excess carbs curbed (especially sugar), and saturated fat and sodium slashed, but the best part is neither you, nor your family or guests, would ever guess it.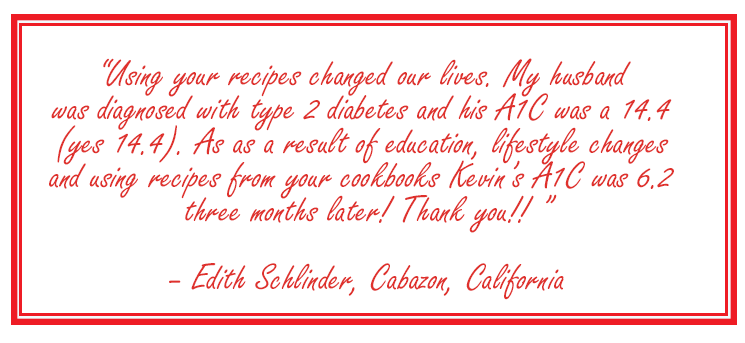 More tips to help keep blood sugar in check
The truth is there is no such thing as a one-size-fits-all "diabetes diet." Persons with diabetes should follow the same healthy eating guidelines that all Americans should, simply tailoring them (such as moderating carbs) to fit their individual needs.
Here are some more tips to help keep blood sugar in check:
Avoid skipping meals
Eat breakfast, lunch and dinner at regular times
Eat a similar amount of food at each meal (B, L and D)
Set a carb budget, and spend it evenly throughout the day
Eat the protein on your plate before the carbs
Test your blood sugar regularly