EAT WHAT YOU LOVE – AND LOSE!
Maintaining a healthy weight is key when it comes to looking and feeling your best, but doing so is not always easy – especially when faced with tempting food at every turn!
When it comes to "diets," here's the truth; all weight loss diets, if strictly adhered to, will help you lose weight in the short run. The problem is deprivation diets are not only difficult to follow short term, in the long run– they just don't work.
According to nationally recognized nutritionist Janet Helm MS RDN, "finding nutritious ways to fit in the foods you love is truly the only way to lose weight, get healthy and actually enjoy eating for a lifetime." I couldn't agree more!
How to eat the foods you love and lose.
When it comes to weight loss, despite fad diet hype, calories are still king. While there may be varying opinions as to the perfect proportion of fat, carbs, and protein, and where those calories come from, studies show it's the total amount of calories that counts most. When you eat fewer calories than you burn, you lose weight. When you eat extra calories, you gain (and unfortunately, eating too many calories is all too easy!).
Luckily there are many ways to reduce the amount of calories you eat. The best way I know is to cook! When you cook, YOU control what goes into your food. I created the recipes in my Eat What You Love cookbooks so that everyone could enjoy the wonderful taste of the foods they love – no matter what their diet or health goals.
More important, because the calories have been stealthily curbed – along with unhealthy fat and sugar – and no foods are off limits, you never feel deprived which makes cooking and eating what you love the best "diet" of all!
Click HERE to see just how many calories you can save cooking the Marlene Koch way!
For more information, including how to create your own weight loss budget, go to the TOOLS page or read my blog post: Weight Loss 101.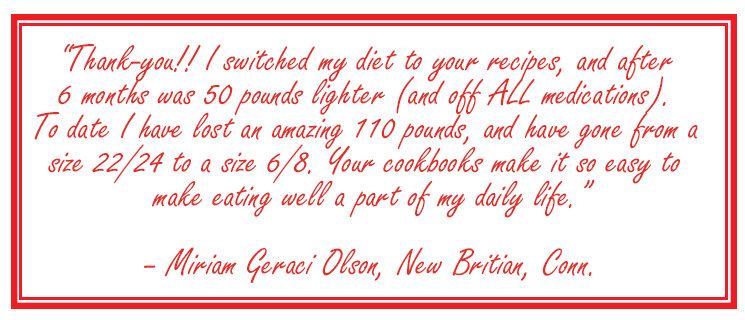 Eat What You Love and Lose Weight with Weight Watchers!™
One weight loss program that has shown positive results for many who follow it – including thousands of my wonderful "kochbook" fans – is the Weight Watchers™ program. As such, I am happy to share that every recipe in the Eat What You Love cookbook collection includes "points" – and now they come with SmartPointsTM !
Eat What You Love Smart Point Addendum
Eat More of What You Love Addendum
Eat What You Love Everyday Addendum
Eat What You Love Quick & Easy Smart Point  Addendum
The SmartPoints™ formula uses the amount of calories, saturated fat, sugar, and protein in a food or beverage to determine its "points." Calories, saturated fat and sugar drive points up, while protein lowers them.
The great news is that because my recipes are low in calories, fat (especially saturated fat) and sugar, and not skimpy in protein, they are the perfect for weight watchers!
Banana-Oat Breakfast Cookie = 2 Points                                
Bourbon Chicken Broccoli Stir-Fry = 3 Points
No-Bake Cherry Topped Cheesecake = 4 Points!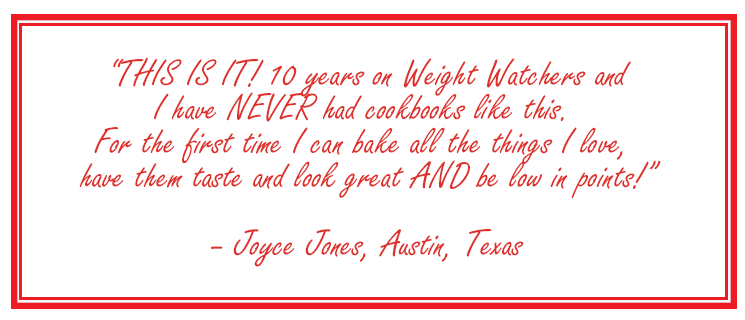 For more information of the new Weight Watchers program, click HERE.
*Weight Watchers and SmartPoints are registered trademarks of Weight Watchers International, Inc. Weight Watcher smart point comparisons have been calculated by myself for informational and do not imply sponsorship or endorsement by Weight Watchers International.