This last Sunday I had the most wonderful time at QVC. I didn't sell the most books ever, nor did I meet yet another celebrity (as is often the case in the Q green room – as Rachael Ray, Paula Deen, Gordon Ramsey and Kirstie Alley are all frequent guests).
No, instead I had the incredible opportunity to have a very special reader (and her lovely husband), join me at the QVC studios in Westchester, PA, so they could witness the big reveal of her amazing "before and after" pictures as it occured live on-air.
MIRIAM'S INSPIRING WEIGHT LOSS STORY: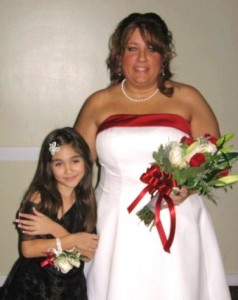 In March, Miriam Geraci Olson wrote to me to share that she had lost an incredible  110 pounds using my recipes. Two years ago, after a series of difficult events, Miriam,found herself heavier than she had ever been. Her decision to "get healthy" came on the heels of not only being at her heaviest ever, but being diagnosed with high blood pressure, cholesterol, and  diabetes – all at the age of 37.
As shared by Miriam, each Sunday she would plan her meals for the week from my books (Eat What You Love and now Eat More of What You Love), and do her shopping accordingly. Within weeks her blood sugar started to drop – and so did her weight.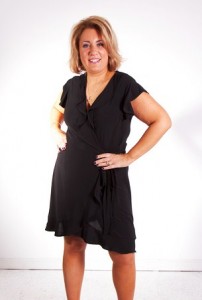 Within 6 months Miriam was down close to 50 pounds – and off ALL of her medications. One year later the beautiful (beaming) Miriam was as additional 60 pounds lighter and trading her 22/24 dresses for a slim size 8.
Tagging along for the ride – and loving every bite – her husband lost 30 pounds, and her lovely daughter learned to cook – the healthy way!
According to Miriam, being able to eat the foods she loved made all the difference (and still does). "I never felt deprived which made it easy."
After a general tour of the studio, Miriam and her husband were able to  join me "behind the scenes." Introducing Miriam to many of the regular guests was great fun, and of course Mr. Foodie and uber host David Veneable was his usual gracious and charming self. His question to Miriam was, "tell me, how does it feel to goes clothes shopping now?" Her answer, "fantastic!"
I am continually inspired by the wonderful stories from all of you, and your incredible support! Good health and great taste can go hand-in-hand!
My best to you and yours,