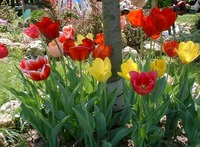 Spring is finally here – blossoms are blooming, the weather is warming, and coats are being shed for shorts and sleeveless blouses. Now is the perfect time of course to refresh and renew. Spring cleaning your home and garden is great, but Spring is also the perfect season to freshen up your diet and exercise program. Here are some tips to make it as easy as 1,2,3.
1. Get up and go! No more cold weather excuses. Spring is the perfect time to add more steps to your day. Take advantage of the longer warmer days by heading out for a morning or evening walk. Studies show walking outdoors not only increases your metabolism and burns calories, it elevates your mood. If you already have an exercise routine, Spring is a great time to switch it up. Add a new exercise, vary what you already do, or be adventurous and add something  brand new.
2. Swap out winter's comfort foods for lighter fare and more fruits and vegetables. Spring's bounty includes artichokes, asparagus and sweet onions along with grapefruit, lemons, and of course luscious strawberries. Add more salads to your meals (or enjoy them as the meal), veggies to your sandwiches, and berries to your breakfast. Aim for 1/2 your plate to be filled with fruits and veggies each meal. Last, don't forget to drink plenty of water. I find that filling two large water bottles each morning is a great way to keep me on track. When the bottles are empty, I know I drank enough that day.
3. Keep track of your progress – in writing. Studies show that food and exercise diaries are highly effective when it comes to losing weight and keeping you on track. Research reveals that the simple act of keeping a food diary actually doubles weight loss! With bathing suit season just around the corner Spring is the perfect time to start charting your progress to a fresher, lighter you.
Best to you and yours,