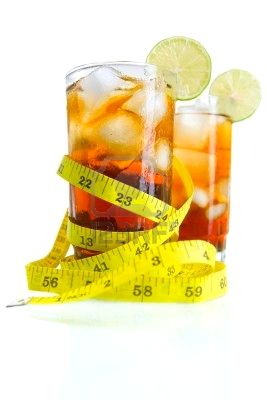 Let's face it, as the weather gets hotter, it becomes harder than ever to resist sweet beverages. Whether it's the ice-cold sweet tea calling our name or the newest chilly coffee sensation at the café tempting us to give it a try, sweet thirst-quenchers can be downright irresistable. Unfortunately, with their sweetness comes excess sugar, calories, and in the case of creamy drinks, fat. Making it even worse, studies show we don't make up for the calories in beverages by eating less, which makes beverage calories, "extra" calories. (And it's "extra" calories that lead to extra pounds!).
Unfortunately, more than half the beverages Americans drink are sweetened. That's a LOT of extra calories.* Let's put this into real numbers: researchers at the Children's Hospital in Boston calculate that drinking just one 12-ounce sugar-sweetened beverage a day – averaging only 140 calories – can lead to a one pound weight gain every three to four weeks!!
To help you enjoy the sweet drinks you love – where the only thing extra is great taste – I created two entire chapters of sweet sippers for my book Eat What You Love. From cold to hot, to smoothies and even, sensational sinless shakes, I got you covered. Here is a favorite!
FROSTY CARAMEL FRAPPE
Just as creamy, sweet, and addictive as the original. In fact, the only thing missing is 75% of the calories and 90% of the original sugar and fat. I'm loving it!
Makes 1 serving
½ cup low-fat milk
¼ teaspoon instant coffee
¼ cup light, no-sugar-added butter pecan ice cream
1 tablespoon sugar-free caramel syrup (like Smuckers)
2 teaspoons granulated no calorie sweetener (or 1 packet)
½ cup crushed ice
Light whipped cream (optional)
1. Place all the ingredients, except the ice, in a blender. Blend to mix.
2. Add crushed ice and blend on high until the ice is completely incorporated. Top with a
squirt of light whipped cream if desired.
DARE TO COMPARE : Not loving it – a medium Caramel Frappe with 550 calories, 24 grams of fat (15 of them saturated), and 71 grams of sugar, packs more saturated fat and calories than a Quarter Pounder with Cheese and more sugar than five Hot Apple Pies.
Nutrition Information Per Serving
Calories 120 : Carbohydrate 21g (Sugars 6g) : Total Fat 2.5g (Sat Fat 1g)
Protein 4g : Fiber 0g : Cholesterol 5mg
Sodium 110mg
Food Exchanges: 1 carbohydrate, ½ LF milk
Carbohydrate Choices: 1 1/2
Weight Watcher Point Comparison: 3