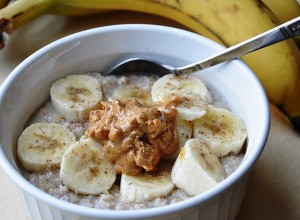 In honor of breakfast month, I am moving this recipe back up front and center. After tasting LOTS of bowls of oatmeal one day with my my kitchen assistants this bowl, with its tasty combination of peanut butter, bananas, and maple syrup rose to the top of our "love it" pile. A trip down memory lane reminicing that Elvis Presley was almost as famous for his love of peanut butter and banana sandwiches as he was his singing, gave us the name.  Enjoy!
1/3 cup old fashioned oats
1 cup water
tiny pinch salt (optional)
3 tablespoons sugar free maple syrup
1 tablespoon peanut butter (I like mine smooth)
1/3 small banana, thinly sliced (about 1/4 cup slices)
1/2 tbsp. chopped peanuts, optional
1. In a small saucepan, bring water to a boil, add oats, and bring to a boil once again. Reduce heat and simmer for 6 to 7 minutes, or until most of the water is absorbed.  Stir in peanut butter and 2 tablespoons of the syrup.
2. Spoon into a bowl and arrange banana slices across the top. Drizzle on the remaining syrup and sprinkle with chopped peanuts for extra flavor and crunch if desired.
Serves 1
Calories 250 : Fat 9 gms (sat 2) : Carbs 34 (sugar 9) : Fiber 5 gms : Protein 9 gms : Sodium 75 (without added salt)
Food Exchanges 1 1/2 Starch, 1/2 Fruit, 1 High Fat Meat, 1/2 Fat
Plus point = 7