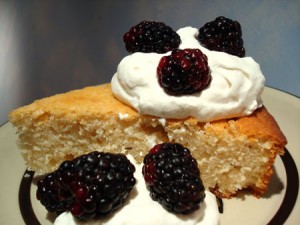 If you are looking for a easy quick-fix homemade white cake with less sugar, fat, and calories – you found it! I actually didn't set out to create this recipe, but as often happens, especially when I get baking, the more I test, the more a recipe evolves.
This journey of this cake (now a sweet one-bowl sister  to my Unbelievable Chocolate Cake), started when I set out to make-over a lime yogurt cake recipe. Several variations (and a full quart of yogurt later), I realized that while the yogurt was doing wonders at keeping the cake moist, it was also weighing it down.
I knew that buttermilk could help create the lighter texture I desired, but what I did not realize, until I cross referenced my long-time signature chocolate cake recipe, was how very similar the two recipes now were – thus a new "unbelievable" cake was born.
What makes it "unbelievable"? Just like the beloved chocolate version, this cake takes but one bowl, a whisk, and 10-minutes to make. The result is a light moist white cake that has a mere teaspoon of sugar and oil in each serving, making it easy to fit it into any diet (even for those with diabetes).
I find the perfect compliment simply a few fresh berries (a treat my son James loves even for breakfast) and a add a dollop of light whipped topping. For fancier occasions or birthdays my Basic Whipped Cream Cheese Frosting or Strawberry Sour Cream Frosting (both found in Eat More Of What You Love) are lovely. When topped with fresh sliced strawberries, a drizzle of light chocolate sauce or my Chocolate Fudge Glaze takes it over the top!
(PS If you prefer to make this with 100% sugar be sure to read the tips below)
UNBELIEVABLE WHITE CAKE
Serves 8
¼ cup sugar
1 large egg
2 large egg whites
1 1/2 teaspoons vanilla extract
¼ cup canola oil
3/4 cup no-calorie granulated sweetener (or 18 packets*)
1 cup low-fat buttermilk
1 1/2 cups cake flour
1 1/2 teaspoons baking powder
1/2 teaspoon baking soda
2 teaspoons powdered sugar
1. Preheat the oven to 350°F. Coat an 8″ round (or 9-inch square**) baking pan with nonstick baking spray.
2. In a large bowl, whisk together the sugar and eggs until the mixture is frothy and thick. Add the vanilla, oil, sweetener, and buttermilk. Beat with a whisk for 1 to 2 more minutes, or well mixed.
3. Sift the flour, baking powder, and baking soda into the wet ingredients. Whisk vigorously for 1 to 2 minutes, or until the batter is smooth (having a bit more air bubbles than usual is normal. Beat until mostly smooth).
4. Pour the batter into the prepared pan and tap the pan on the counter to level the surface and to reduce bubbles.
5. Bake for 22 to 24 minutes, until the center springs back when touched, or a toothpick inserted into the center comes out clean. Do not overbake. Cool the cake on a wire rack. Dust with powdered sugar before serving.
*Either sucralose of Truvia packets may be used
**Be sure to check the 9-inch square at 22 minutes
TIP: To make this care with 100% real sugar, use 3/4 cup sugar total beating it with the eggs and oil before adding the vanilla and buttermilk. Bake for 30 minutes, or until center springs back when touched gently. Cake will have a rustic uneven colored top when compared to box mixes (which I find rather attractive).
Nutrition Information Per Serving (1/8 of cake with powdered sugar) Calories 175 : Carbohydrate 22 g (Sugars 8g) : Total Fat 8g (Sat Fat 1g) : Protein 3 g : Fiber 0g : Cholesterol 25mg Sodium 180mg     (Subtract 20 calories and 1 point if you make the cake in a 9″ inch square pan and cut it into 9 pieces.)
Food Exchanges: 1 1/2 Carbohydrate, 1 1/2Fat : Carbohydrate Choices: 1 1/2
Weight Watcher Point Comparison: 5  (4 if made in 9-inch square/9 servings)